Gary Jay and The FIRE 🔥 PRESS-KIT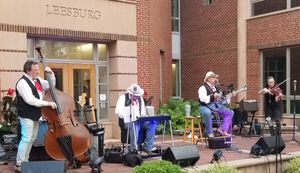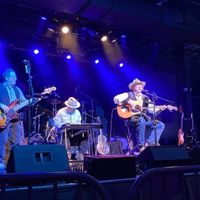 'Gary Jay and The FIRE' is an exciting Country*Grassroots BAND (Solo / DUO / Trio / Band).  Gary invented a special percussion device so no loopers or 'backing tracks' are needed.  Gary provides vocals / percussion / guitar and some of the area's hottest musicians join him..
Gary has created two(2) albums. The most recent album 'Back to the Farm' has five(5) songs that have been played on 3800+ radio stations worldwide with potential 5 million listeners and promoted via Muscle Shoals music legend Stephen Foster.
 
Gary Jay and The FIRE put on an exciting show playing many of Gary's 'story-telling' original songs and covers.  Gary Jay recently opened for Whey Jennings at DOMINION RACEWAY.  Y'all come get some certified organic country*grassroots!
VENUES / FESTIVALS:
Gary Jay has played a variety of festivals and venues including: The Groove at DOMINION RACEWAY, Baltimore Fest at Merriweather, National Cherry Blossom Festival, North Mountain Arts Festival, Taste of Leesburg, Roundhill Hometown Festival, Arlington County Fair, World Police Games, Jammin Java, Bear Chase Brewery, Dirt Farm Brewery, Antietam Creek Vineyards, Deathridge Brewery, Baldtop Brewery, Prince Michael Winery, Vanish Brewery, Old Bust Head Brewery, Two Twisted Posts Vineyard, Spankys, Velocity5, Dogfish Ale House, Horseshoe Curve Restaurant, Brewbakers, Griffin Tavern, Worthog brewery, Molly's Irish Pub, Gypsy Sallys, National Conference Center, Cascades Overlook Center, Mark's Pub, Paddy's Irish Pub, American Legion Post 71, Purcellville American Legion, Eagles Club, Addy's Lounge, Blue Fox Billiards, Winners Circle Saloon, Barrel Oak Winery, Blue Valley Vineyards, Harpers Ferry Brewing, Harpers Ferry Event Barn, 50West Vineyards, The Wine Kitchen, & more.
Mentioned in 'Readers Digest' national blog Memorial Day 2021 for things to do:
From recent fundraiser gig comments from the organizers: "You are the best we ever had at this event." & "You sound like a FULL BAND" (speaking to our POWER-DUO).  Sep 28th, 2019.
I just wanted to say THANK YOU for being a part of our very first TASTE Leesburg!! The turnout surpassed our expectations. Thank you all for your top notch performance.-Events Coordinator Town of Leesburg Department of Parks & Recreation 2018
Hey, Gary Jay! Thank you and Vince so much for your awesome show last weekend; sounds like you had the place rocking, and we so appreciate it!  -Antietam Creek Vineyards Management / Staff.  Email Mon, Jul 15 2019.
Great day & FANTASTIC MUSIC!  Glad to have you, see you soon.  TTP Winery 2019.
Speaking with a lady after our DIRT FARM show she says I know where you two should play, the seldom seen are playing there. It's in Alexandria 'The Birchmere'. I said I would love to open for someone like that..  She says, "No.. you need your own show there!"  Wow, I think that is probably the best compliment I have ever heard. Quote from unknown/new fan. -Dirt Farm Nov 29th 2019